Dear Evansville Area Business Owner : "Do you know if you are on all the right Maps?"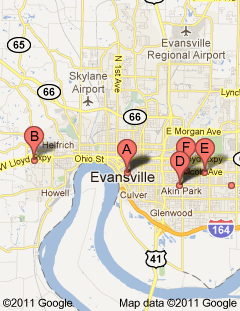 My name is Chad Schmidt(Owner and CEO), and I'm a local search marketing consultant. Unlike most offers that you will see from people guaranteeing to make your business or practice "Placed at the top and #1 on Google", or to bring you thousands of website leads – I'm not going to do that. No one can guarantee you the first page and no one can guarantee you thousands of leads. There are a lot of things that Evansville SEO will do to better your digital presence but following unethical practices are not in the cards! Continue to read this page for more information or you can click the contact us link at the top this page so we can discuss our operations face to face. I will show you how a real Digital Marketing Agency conducts business and we will start the process of getting your name or brand out there!
Everyone at Evansville SEO is an expert in local search engine marketing (local SEM)but I am the subject matter expert. I will work/communicate with you take your business as high as we can get it and market it through Google, Bing, Yahoo, and  many other Local Citations that generate quality back links to your site. Our company will also work directly with you to optimize your local citations so your site referrals increase and drives a lot of technical factors to your organization. Our company has internal software that will "BLAST" your citation completion so the task is completed more efficiently and within a timely manor. Not too fast, as like some of our competitors who blast EVERY local citation all at once and Google Catches on.
I'm not in India, Philippines, or even in LA or NYC. I'm local to you, and work in downtown Evansville, Indiana. My company, Evansville SEO, won't promise you something we can't deliver. Unless you work at Google, you can't "guarantee" a #1 ranking. We don't make promises we can't keep.
What I can tell you is this, I will analyze your competition in depth and if there is an opportunity to capitalize on your niche services in the Evansville area…I will let you know.
I will aggressively target the terms and keywords that are essential in your area of expertise, and I will go after top positions as well as a prominent spot in local citations like Google, Bing, and Yahoo Maps.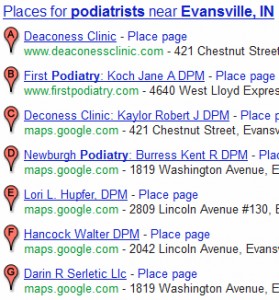 Make sure your Local Citation Creation is accurate and completed the way each company wants to see it via their guidelines.
Confirm that your website and your local citation creation page Name, Address, and Phone Number matches(NAP)
Do analysis to evaluate what Local citations are prevalent in your area the start doing Local Citation Creation on those sites as well.
I will inform your organization about the Rules the FTC has set on obtaining reviews and the best practices to get them.
Obtaining numerous positive Reviews, Posting, and Logging into Google My business is a VERY important part of getting and keeping your business ranked on the map.
Once I get your business ranking on the first page of Google My business, I will monitor your site and add adequate quality content to keep you there.
If you are ready to take the next step or if you would like a free website and Google My Business traffic analysis please send me an email at [email protected] or call me.