Watch this short video to see how we can get you more clients.
Accounting Search Engine Optimization
Internet Marketing Delivers New Tax Clients for CPA's
Potential clients are searching for Accountants and CPA's online every single day.  Google, YouTube and social media sites like Facebook are the top 3 choices your customers will use to solve their tax preparation needs.  Increasing your firms online visibility is essential to growing your practice.  That is where our Accountant and CPA SEO services can help.
Here is how we help:
Increase the number of potential clients that see your firm online.
Increase the number of potential clients that take action to contact your office.
Measure our efforts on a monthly basis to demonstrate value to your firm.
Request Your Free Local Accounting Search Engine Optimization Consultation Today
To have an SEO Accountant/CPA marketing specialist help you improve your Internet marketing, just fill out the form for a FREE Internet marketing consultation.
Using Internet marketing for your accounting office does not have to be stressful and wasteful.
Internet Marketing for Tax Consultants
As your Internet marketing partner, we offer a broad range of Internet marketing searches such as Accounting Search Engine Optimization, professionally designed Web sites, and pay-per-action services.
Promoting and optimizing your offices web site with the search engines is by far the best way to drive a steady stream of potential new clients to your site. It's key that your practices web site has a search engine friendly web design, is optimized for keywords that are related to your practice and target people in your city, is included in key search directories and has quality links from other related websites, among other things.
Did you watch the video above that outlines how we can help grow your online traffic?  Can your accounting firm be found in Google for its main practice areas and geographic location?  Here are a few of the local searches that we can focus on:
Evansville CPA (Nashville, Indianapolis, Louisville and others are available)
Accountant Evansville
Evansville Accounting Office
CPA Office Evansville
Evansville Small Business Accountant
Evansville Bookkeeper
Evansville Tax Accountant
And More…
Can all of the Accountants/CPA's in your office be found by their names if someone decides to Google them?  You would probably be surprised to find that this happens all the time.  Accountants offices can't be found because their sites are not properly optimized.   That's not a good thing when a potential client decides to "Google" you and can't find you.
Does your office already have a web site but it's not bringing in the type of results you had hoped for? Do you have additional practice areas or office locations that you want to spotlight?
Does you office/firm show up on Google Places/Maps?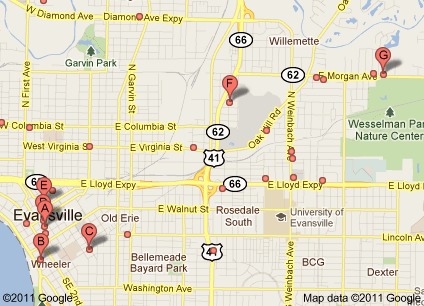 Google Results for Evansville CPA
One of the best ways to get new customers is to optimize your Google Places listing.  Evansville SEO can deliver results!  Is your practice on this search result for Evansville CPA?  If not, let Evansville SEO get you 'on the map'!
We are right here in Evansville, please call us or complete the contact form.
Performance Based: Accounting offices can hire Evansville SEO on a month-to-month basis. If you are not happy, you can terminate the relationship with no fees or penalties.
Exclusive Agreements: You will be our exclusive client in your practice area and local geographic location. Just as McDonald's and Burger King would not hire the same advertising firm – neither should you.
Accounting Office and CPA Firm: Evansville SEO has a dedicated group that is focused on Accounting Search Engine Optimization work for independent CPA's and accountant firms.  We are focused on Evansville CPA SEO.
Complete: From getting potential clients to find you online, to increasing the possibility they retain your services, we are dedicated to measuring, testing, and optimizing the entire SEO process.
Hands-off: We know you are busy. Our SEO service will manage all the necessary steps that it takes to get your firm ranking for Local Search and on Google Maps.